Metro Bank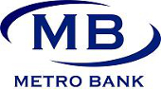 Metro Bank's mission is to stimulate economic growth within the underserved communities of Jefferson County, Kentucky by providing an array of financial and development resources. Their vision is to create a better quality of life for underserved residents and businesses in Jefferson County, Kentucky by providing access to flexible capital that facilitates job creation, job retention and access to goods and services.
Related News
CDBA |
Wednesday, October 9, 2019
The StoryBank Project is a CDBA initiative to capture success stories of our member banks. These stories show how underserved communities benefit directly from mission-based banking and financial services. Our latest video highlights Metro Bank in Louisville, Kentucky. Their client, Kidwell's Auto Beautification, employs dozens of community members, including formerly incarcerated people. Another client, Omni Medical Center, was given a loan by Metro Bank to serve underserved areas of Louisville.
Black Excellence |
Monday, April 15, 2019
The recent #BankBlack social media campaign has brought black banking back into the national consciousness. The movement has inspired thousands of people across the country to transfer or deposit millions of dollars into black-owned banks for the first time. With this support, black-owned banks invest in urban communities, employ African Americans, and inspire black home ownership. For those considering making the change, here is a list of 13 banks to consider, including CDBA members United Bank, Industrial Bank, Harbor Bank of Maryland, Broadway Federal Bank, OneUnited Bank, Carver State Bank, First Independence Bank, GN Bank, and Metro Bank.
Metro Bank |
Thursday, November 1, 2018
Pedro Bryant, Chairman, President, and CEO of Metro Bank, has been elected to the board of directors of the American Bankers Association (ABA). The new board was announced on October 23, 2018 at the ABA National Convention in New York City. "I am honored to have been elected to the board of directors," said Bryant. "This is an exciting time for the banking industry and the ABA is leading the way in helping shape policy decisions that impact banks and the communities they serve."