1st SouthWest Bank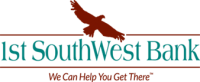 1st SouthWest Bank is a strong and growing community bank dedicated to serving the people and businesses of Southwestern Colorado. For over 20 years, the bank has actively supported and sought opportunities to improve the quality of life in its communities. In addition to providing professional and personalized service to customers, 1st SouthWest strives for 100% involvement from its employees in community organizations, programs and non-profits.
Related News
Alamosa News |
Tuesday, November 30, 2021
Kent Curtis, President & CEO of First Southwest Bank, with six locations serving southern Colorado, will serve on the Colorado Bankers Association Board of Directors for a multi-year term. The Board of Directors of the Colorado Bankers Association leads the organization in its policy and industry advocacy efforts. The Colorado Bankers Association represents more than 95 percent of the 129 banks operating in Colorado, which have $190 billion in assets, 1,445 branches across the state and more than 20,000 dedicated employees. With over 25 years of successful banking experience, and proven abilities in all facets of management, motivation, team building, lending, and turn-around, Kent Curtis has held various executive officer positions as well as board memberships throughout his community banking career.
National Community Investment Fund |
Wednesday, February 3, 2021
NCIF invited 10 partner CDFI and Minority Banks to identify small business customers that are integral to their local communities and needed support to sustain their respective businesses through the pandemic. NCIF used over $100,000 of its own funds to pilot an unrestricted microgrant program as gap funding to these customers. Our first batch of microgrants was given to social entrepreneurs, retail businesses, community facilities, affordable housing organizations, arts nonprofits, and other small businesses across the country. These CDBA members are First Southwest Bank, Carver Federal Savings Bank, City First Bank of DC, Community Bank of the Bay, First Eagle Bank, Industrial Bank, Native American Bank, Providence Bank & Trust, Southern Bancorp, and United Bank. 
Durango Herald |
Sunday, September 27, 2020
First Southwest Bank was awarded Community/Rural Lender of the Year by the Colorado Small Business Administration during their virtual conference for National Small Business Week. Sherry Waner, FSWB's Chief Development Officer, accepted the award on behalf of the bank. Examples of rural businesses across the state that FSWB has helped through SBA loans include GEOMAT, Phoenix Recycling, Espinoza Consulting Services, Agile Space Industries, Chinook Medical Gear and Ace Towing. During the ongoing small business impacts of COVID-19, First Southwest Bank has completed 805 Paycheck Protection Program loans through the SBA to small businesses across Colorado to date.