Copiah Bank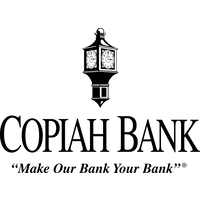 In October, 1891, the founders of Copiah Bank opened our doors in service to families and business owners who were largely ignored by bigger-city banks. Theirs was a vision of a bank that would provide responsive solutions, exceptional service, fiscal integrity and value for those we serve.
Today, Copiah Bank continues to embrace these principles as they have set us apart for more than 125 years. We are proud to serve as a true community bank, driven by the relationships we share with our customers and, through active corporate citizenship, the communities we serve. We know that you have choices when it comes to choosing a bank and we work diligently each day to remain your bank of choice.
At Copiah Bank, you will find bankers who are well-trained in their responsibilities, a full array of accounts, loans, financial services and technologies to meet your total financial needs, and a can-do attitude shared by each member of our banking team. It's our goal to see a smile on your face after you complete your transactions and go about your day.