Legacy Bank & Trust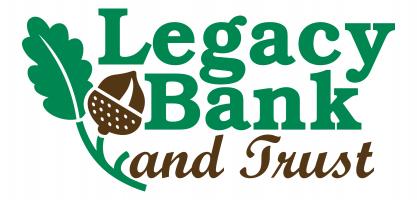 Chartered in 1907, Legacy Bank & Trust serves as a financial leader in economic and community development by providing financial products and services in the largely underserved populations of Southcentral Missouri. We pride ourselves on being active in our communities, and strive to continue to do so for years to come!
Related News
CDFI Fund |
Wednesday, September 1, 2021
The U.S. Department of the Treasury's Community Development Financial Institutions Fund (CDFI Fund) announced $5 billion in New Markets Tax Credits today that will spur investment and economic growth in low-income urban and rural communities nationwide. A total of 100 Community Development Entities (CDEs) were awarded tax credit allocations, made through the calendar year (CY) 2020 round of the New Markets Tax Credit Program. The 7 CDBA member banks receiving awards were Central Bank of Kansas City, The Harbor Bank of Maryland, Peoples Bank, Legacy Bank & Trust, Sunrise Banks, Southern Bancorp, and United Bank. 
CDFI Fund |
Tuesday, February 25, 2020
The CDFI Fund recently awarded 23 CDFIs Capital Magnet Fund awards for FY 2019. Among the awardees were Beneficial State Bank, Legacy Bank and Trust, United Bank, and Virginia Community Capital. The Capital Magnet Fund helps to create and preserve affordable housing for low-income families and economically distressed communities by attracting private capital. The Capital Magnet Fund awards competitive grants to CDFIs and qualified non-profit housing organizations. These organizations use the grants to develop, rehabilitate, reserve, and purchase affordable housing, particularly housing targeted to Low-, Very Low-, and Extremely Low-Income families.
Legacy Bank and Trust |
Thursday, August 15, 2019
Legacy Bank and Trust invited Rep. Billy Long (MO-07) to their offices over the Congressional Recess to discuss the importance of CDFIs in the community. Pictured from left to right are: Brandon Taylor, CFO of Legacy Bank; Rep. Billy Long (MO-07); John Everett, President and CEO of Legacy Bank; and Brett Mager, Chief Lending Officer of Legacy Bank.