Community Bank of the Bay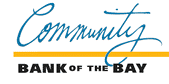 Community Bank of Bay was founded in 1997 to serve the credit needs of historically underserved businesses in the San Francisco Bay Area. Locally owned and operated, the bank invests in the economic vitality, community spirit, and future of Oakland. With exceptional local market expertise and broad industry knowledge, the bank brings value to customers and their community.
Related News
Oakland News Now |
Monday, October 8, 2018
A new movement in Oakland has locals calling for the establishment of a new institution, the Oakland Public Bank. This bank is meant to be a more mission driven and impact focused alternative to big banks in the area. However, Oakland's own Community Bank of the Bay, started in 1996, largely does much of this already. So is the proposal for this new bank just treading old ground?
CDBA Member, Community Bank of the Bay, an Oakland, California-based CDFI recently announced the completion of a $12 million private placement, which will result in approximately $11.5 million of net proceeds to the Bank. As CEO William Keller shares, "This capital raise will allow Community Bank of the Bay to better meet the needs of our clients and the communities we serve.  We are especially excited to be able to support in a greater way the dynamic growth that is occurring in Oakland, a community that we have been proud to serve for over twenty years."
CDBA Member Community Bank of the Bay seeks to fill several positions
SBA Business Development Officer
(Oakland/San Jose, Calif.)
The SBA Business Development Officer originates new 7a and 504 loan opportunities. This position will call on and develop an external referral source network to solicit SBA loan opportunities, analyzing the needs of prospects and providing information about products and services. The business development officer also will interview new loan applicants to gather information relative to their business needs, abilities and earnings to determine whether loans may be an acceptable risk and communicate credit decisions to prospects and customers.
Relationship Manager
(Oakland/San Jose, Calif.)
The relationship manager is responsible for the production of C&I loans, lines of credit and commercial real estate loans. This position will maintain and manage a loan portfolio and cross-sell all bank products and services with the goal of building relationships with business and personal clients. The relationship manager solicits, negotiates and underwrites loans in compliance with bank's credit policies and guidelines.
Credit Analyst
(Oakland/San Jose, Calif.)
The credit analyst is responsible for assisting loan officers in the evaluation of commercial credit and deal structure for C&I, commercial real estate and SBA customers. This position is responsible for preparing financial spreadsheets to properly assess cash flow and debt service coverage. The credit analyst will also be expected to conduct annual portfolio reviews and audits. This role assists in the preparation of credit approval memos and ensures that covenant compliance and financial reporting requirements are addressed.